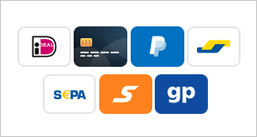 ✔
Thousands of buyers and sellers
✔
Sell your stocklots
✔
Without commission
✔
Get in contact with buyers
✔
Advertising on Facebook and Twitter
✔
Free weekly newsletter
✔
Platform is founded in 2013

New advertisement rates
11-03-2019
Because of the arrival of adblockers, the maintenance costs of the website and the prevention of non related advertisements, we now ask (after having offered this for 6 years for free) a fee per advertisement. The costs for an advertisement are € 2.50 incl. VAT. Upon payment your ad is activated immediately and you will receive an invoice by e-mail.
Premium account
Do you want to place larger numbers of advertisements? Then you can also choose to take a Premium account. The costs for this are € 30, - for 3 months, € 60, - for 6 months and € 120, - for 12 months (including VAT). This allows you to place unlimited ads!
Old ads
All old ads placed before March 11, 2019 will continue to be active, but you can delete them yourself. If you want to edit the ad, you need to activate it. The advertisement will also appear at the top of the relevant category. After the desired period the advertisement is automatically deactivated again.
If you have any questions, please contact us about this.
Register
Login